The Lime Tree
Friendly ~ Quality ~ Convenient
About Us
A
Modern

 Lifestyle In the Heart of Central Hastings
The Lime Tree is more than student accommodation- we offer a new, modern, lifestyle in Hawke's Bay. The Lime Tree has a mix of spacious comfortable single and twin share rooms with separate well appointed clean bathrooms and open study areas. We're student and resident focused.
Some students at The Lime Tree will be attending either the Eastern Institute of Technology (EIT) or the Air Hawke's Bay Flight School. We also have some rooms available for young people on working holiday visas or relocating to Hawke's Bay for work.
The Garden Rooms
Located along the inner garden courtyard, these rooms are popular with residents who enjoy the zen-like peacefulness a garden brings.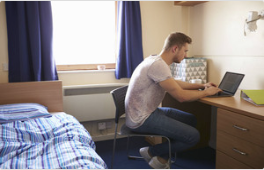 The Karamu Rooms
These rooms offer views along Karamu Road. At street level, they are popular among residents that thrive on activity.
The Smart Skylight Rooms
These rooms have smart skylights you can control with a remote and an App.  The block out blind shuts when you choose.  In winter they let the sun in, in summer they block the sun but allow a breeze and all year they only let the light in when you when you want it!
Study, work, make friends, make memories.
The Lime Tree is more than your home away from home!
What you Get
Amenities, Services, & Local Activities
Cafes & Restaurants
Kiwis love their cafes, and there are plenty in the Hastings' Central Business District. Cultures flourish in Hastings and this is exemplified in the food choices nearby. The Lime Tree is situated within walk to many cafes & restaurants where you and your friends can meet up for a meal and good times.
Shops
Need something for study? Maybe something fashionable? Shop for electronics, food, clothing and more all right here.
Arts & Culture
Arts and Culture are core to Hastings. From the Hastings Art Gallery, to the annual Hawkes Bay Arts Festival to studying at the IdeaSchool at EIT, there is plenty to enjoy. You'll find music cafes and outdoor events throughout the year.
Shows & Entertainment
Focal Point Cinema is a short walk from The Lime Tree. And there are many other nearby attractions including the popular Splash Planet and more.
Outdoor & Adventure
Hawke's Bay is host to many outdoor activities. Hike Te Mata Peak, head to Ocean Beach or walk along Marine Parade or bike any of the many bike trails. Visit the Open Market on Sunday or just explore Hastings. There's many reasons to explore our region.
Day Trips
The Lime Tree can help schedule day trips for residents, or they can join us on outings. Buses are nearby going to Napier and other locations and attractions.
Student-style

Accommodations with
a MODERN COMMUNITY

lifeStyle
We Have Vacancy!
208 Karamu Road, Hastings, NZ 4156